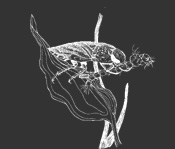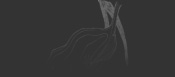 Kristin B. Simpson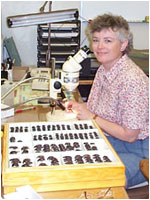 Museum Manager
---
Phone: 573-882-2410
Fax: 573-882-1469
E-mail: SimpsonK@missouri.edu
Office: 3-38 Agriculture Building
Mailing Address: 1-33 Agriculture Building


Columbia, MO 65211
Education
B.S., Environmental Biology and Zoology, Eastern Illinois University
M.S., Entomology, University of Missouri
Description
Job Duties

Curate Enns Entomology Museum: process collections, donations, incoming and outgoing loans.
Maintain organization of Museum and systematics laboratory.
Provide laboratory support for MU faculty and visiting scientists.
Provide technical support for systematics research program as it relates to the Museum.
Maintain equipment and supplies for entomology courses.
Conduct tours of Enns Entomology Museum upon request.
Coordinate insect presentations to be given to various on- and off-campus organizations.
Prepare insect displays to represent the Division or College at various functions, such as Preview Mizzou and Earth Day.
Archive Entomology program literature.